December 2012

Cleaning the Mechanical Workings
I am often asked why I recommend using kerosene to clean a Singer Featherweight (mechanicals) instead of other solvents that are readily available on the market – other solvents that would undoubtedly do a superior job of cleaning with less 'elbow grease' involved by the owner.


Kerosene is a 'safe' solvent for your Featherweight. What I mean by 'safe' is that it is safe for the finish on your Singer Featherweight. Other solvents will remove (or at least damage and mar) the clear coat finish on your machine. It is my understanding that the clear coat finish was basically shellac. Most modern solvents will dissolve and remove shellac. Some are even manufactured as a thinner for shellac!


While I do not want you spilling kerosene on your machine's finish and leaving it there, an accidental spill will do no harm. It is what I recommend for removing old tape residue on machines that had tape applied for a seam guide (now you have my Nova's Sew Straight Guide! ;-).


Kerosene is sold primarily as a heater fuel. You can find it in hardware stores for this purpose and sometimes in camping sections of big box stores (not the same thing as stove fuel). Also, I don't recommend the colored lamp fuel – I'm just not excited about what additives are giving the color – and I'm not certain what they would do to the finish on your machine.


One other thing to mention – if you live in an agricultural area, sometimes you will find kerosene at the gas station through a pump. This is usually red kerosene that is quite stinky – don't use this.


Kerosene is very evaporative, so buy in small quantities (not a five gallon can!) and seal up the container very tightly to prevent it from evaporating. I put plastic wrap on top of the container before I screw down the lid. This evaporative nature is to your advantage, though, when you are cleaning your machine. Any excess will evaporate away.

If you own a 'white' Singer 221-K (Featherweight),

never

put kerosene or anything else on the drive belt inside the machine. The tan Singer 221-J has gears inside just like the black machines.

For information on caring for your machine's finish, please reference my Nova's Featherweight Cosmetics Card - it has information and full color photographs just like my Nova's Featherweight Maintenance Card does for mechanical maintenance.


I hope you have a very Merry Christmas and enjoy this holiday season. I will be running several specials for the holidays over the next couple of weeks. They will be highlighted on the left side of this page and on my Home Page. I will

not

be sending out multiple emails. I am assuming you are as weary of being bombarded as I am! So, please check back here as I will be changing the specials every couple of days!


November 2012
Electrical Connections
It is correct that you are supposed to 'grease gears', but the things that look like small gears in the photo are not gears! They are the thumb screws where the electrical connections for your Featherweight come together.
Several machines have come through my workshop in the past couple of months where these thumb screws were well greased! As a matter of fact on one machine, this area had been packed with grease that resulted in a fire due to the bad mix of grease and electricity. It is best to just leave this area of your machine (where the electrical connections are) alone.
It is also a poor idea to oil your foot controller. There is electricity running through it also!
If you need assistance, please call or email. I'm happy to help you with your machine.
October 2012
Electrical Tingle
Sometimes you can get a 'tingle' of electricity through a Singer Featherweight. Most of the time when this has occurred to me, I feel it when the underside of my wrist touches the front edge of the machine which is cast aluminum (this is why she weighs only 11 pounds). Not enough to jolt or hurt, but just a tingle. A jolt or zap is reason to seek immediate help – and by all means unplug that machine! One recent student told of all the breakers in her home being thrown when they plugged in a Featherweight with bad cording.
A number of issues could be at work to cause this little tingle. There could be deteriorated wiring (please see the posts before regarding aluminum wiring). Good copper wiring could have some of the insulation removed and be making contact with other metal parts. External factors could be coming into play here also – poor house wiring, sewing barefoot on a bare concrete floor or in a damp basement, etc.
The most common cause, though, is the foot controller has been wired (or rewired) with the wires reversed. These machines had no ground wire, so they operate off of what is commonly referred to as 'natural ground'. This is one of several reasons why I don't like to sell replacement cord sets to my customers for them to install, but I will gladly install new cords sets if you will mail me the foot controller. I only charge for the cost of the cord set and shipping.
The original cords that plug into the wall were not polarized plugs (they would plug in either way). Therefore, if you are getting a little tingle through your machine and you have original cords and plug that goes into your wall socket, start by inspecting your cord set for breaks and flaws and turn the plug over in the wall socket. Check your sewing environment for external factors like the damp floor, etc.
If you are still getting a little tingle (or more electricity than that), you should seek out professional assistance to check for corroded wires, bare wires, or a foot controller that has been wired incorrectly. I want to keep your machine sewing great for many years, and you healthy and sewing on it!
September 2012
Bobbin Case Spring
The tip this month deals with your Singer Featherweight bobbin case. The bobbin tension on your Featherweight is controlled by a

tiny

tension adjusting screw (if you are looking at the bobbin case with the latch on top, this is the screw on the right) that puts pressure (tension) on the bobbin case spring. This spring in turn puts more or less tension on your bobbin thread. The spring is made of a small piece of tin cut and shaped for its purpose. I always encourage my students to develop the habit of cutting their bobbin thread off as close to this spring as possible when they are removing the bobbin, instead of pulling the thread out backwards. Pulling the thread out backwards puts undue stress on this spring and the screws. For now, the spring and the tension adjusting screw are replaceable parts. However, the

tiny

screw that holds the spring on (the screw on the left) is no longer available! And, no, the screws are not interchangeable.
Occasionally rust, grit, thread, etc. will get stuck behind the spring and prevent it from doing its job, thereby creating tension issues for you when you sew. (You can see a picture of a rusted spring on my Facebook business page: Nova's Featherweights and Quilting.) If this occurs, you can simply remove both screws (I prefer to remove the adjusting screw first), clean the back side of the spring, then replace the screws. The screws are easily identifiable when they are out of the bobbin case. The adjusting screw will have a "cross" machined into its back side. Replace the spring screw first without tightening all the way down, and then replace the adjusting screw. Now, go back and tighten the spring screw. As always, a bath towel down on your work surface will help keep tiny screws from bouncing and being lost forever should they be dropped.
One other thing I want to mention – I have written a lot about lubricating your Featherweight motor with ONLY Singer lubricant. Remember the the horrors of the 'repairman' who contacted me and divulged that he was putting Vaseline in Singer motors? Within the past couple of months the first motor filled with Vaseline has come through my repair shop. The motor was not running – not even trying. It took quite a while, but the extreme "goo" from the melted Vaseline was successfully cleaned out of the motor. It is functioning just fine again! Please be cautious if you are told you must replace your motor. My experience has been that most of the time the motor can be cleaned and will operate as intended once again.
Ok, it is confession time…….
This month I was going to write about how often you should 'maintain' (give general cleaning, oiling, etc.) your Featherweight.
Recommended Maintenance Schedule
Minimum – Annually whether the machine is in use or not
Moderate Use – Every six months
Heavy Use – After every major project or as indicated by the machine's sounds.


I also recommend lubricating the motor often – after every major project or, at a minimum, every other month.
Well, I have been working on two large projects pretty much simultaneously on the machine that travels with me all the time. I opened it early last week and it would not sew. The hand wheel would turn, but the needle bar did not move.
This is typically an indication that there is a jam in the gib. I did not have tools, kerosene, oil, etc. with me, so I simply packed it away until I could return home. When my husband was helping me unload the car, he asked where I wanted the 'sick' sewing machine. He is used to lots of 'sick' machines coming through my workshop, but this was my machine – my favorite – selected because of its lovely sound (Singer Featherweights characteristically have unique sounds – this one sounds like rain to me).
When I began servicing the machine, I was ashamed. It was very dirty. There was a thick 'felt' pad under the needle plate, and the motor wells were pretty much dry. How could I have let my machine get in this condition? Well, it is easy! Just like most everyone else – I'm busy, and caring for my machine had not been at the top of my priority list.
I serviced the gib (though I did not find a jam there), etc., hand wheel still would turn, but the needle bar would not move. Continued cleaning, oiling, etc., but my blood pressure was rising. This was my machine – my favorite – the one that travels with me all the time. Still the needle bar would not move.
Just a hair before panic, it suddenly occurred to me that the machine was behaving like it does when the stop motion wheel is loosened (like when you are going to wind a bobbin).
Oh, my! Did I feel foolish!
I always tell my students, start with the easy things….
Tension off – completely rethread the machine
Nothing happens when you step on the foot controller – check to make sure everything is plugged in
Needle bar won't move – check the stop motion wheel!
Caring for my machine needs to move way up my priority list if I expect it to continue to perform when I open it up to sew.
When was the last time you maintained your Featherweight?
July 2012
Light Bulb
The Singer Featherweight requires a 15 watt, bayonet style light bulb.
Please don't let anyone tell you that these are no longer available and that you really need a 25 watt bulb to give you better light. I was told this a long time ago before I knew better. Using a larger wattage bulb will cause heat expansion problems with your machine. And, I recently had a student in class whose machine was in good cosmetic condition except for the shade over the light. The paint there had almost peeled completely off. She blamed this on too large a light bulb heating the shade and blistering the paint.
Even the 15 watt bulb will get very hot. Use caution because it is very easy to get burned! Most of us who have been using a Featherweight for a number of years have scars on our hands from the burns. My preference is to avoid this altogether by placing my Ott light directly in front of the right side of my machine, and I do not turn the light on my Featherweight on. The switch on your Featherweight only controls the light. It is not an on / off switch for the machine.
Sometimes it is difficult to remember how to remove and install the light bulb when it needs to be changed. A good 'mental hook' for this is that you are going to throw the bulb

away

, so you

push in

and rotate the bulb

away

from you. To install a new bulb, align the prongs, push in and rotate toward you ('mental hook' – I am going to keep the new bulb, so I rotate it toward me). When a machine comes into my repair shop with a broken light socket, I know that someone has tried to unscrew the light bulb.
The connection inside the early model Featherweights seems to be smaller. I have noticed that sometimes the contacts in the fixture and on the bulb do not work well together on these machines. This is remedied easily by using a 'cat eye' bulb. This means that the contacts on the end of the bulb are elongated. These bulbs have been available for a while, but were more expensive. I was delighted that the last shipment of 'normal' bulbs I received from my supplier all had 'cat eye' contacts.
I hope you are reading my Greetings and News page here on my web site for general information on my coming and going, and my Facebook page: Nova's Featherweights and Quilting. You will find 'mini-Tips' posted there several times a month. I would appreciate it if you would 'Like' my pages that you find beneficial, so you can share them with your friends. Thank you!
June 2012
Bobbin Cases
Reproduction bobbin cases:
I readily admit that I am constantly learning new things about the Singer Featherweights. This week was no exception. For quite some time, I have heard and read poor reviews of the replacement Singer Featherweight bobbin cases. As a part of the service I offer to my customers who purchase a bobbin case, I always adjust it, set the tension, etc., so the machine is ready to sew when they receive it. I have had no problems. Therefore, I thought that the dissatisfaction with the replacement cases was the result of the seller simply shipping out a boxed bobbin case without adjusting it. This week proved that to be untrue.
A customer ordered a bobbin case and I started to adjust one using a machine that I had recently purchased for resale. The machine would not sew. The thread looped around the bobbin case (instead of over it) causing the machine to jam. I went to remove the bobbin case, and it would not come out of the machine. After much effort, I finally got it free. I selected another new replacement bobbin case from my inventory with the same results. This process was repeated through the remainder of my inventory with no better results.
At this point, I was wondering if there was something wrong with the hook on the machine I was trying them on, so I changed machines. I had the exact same results. None of the bobbin cases in my inventory worked!
I called my customer, and shipped her an original Singer bobbin case (like the one pictured) that I had removed from a badly damaged "parts" machine.
On the verge of concluding that I am stuck with a lot of worthless (yet, very expensive) inventory, I called my parts supply house and learned from them that there were two different hook assemblies and bobbin cases that Singer put on the Featherweights. There is no way to tell from looking at the hook assembly or the serial number which bobbin case was a correct match for that hook assembly! The difference is one digit on the part number of the bobbin case (which indicates some minute machining differences). It is also interesting that one of the bobbin cases will fit on either hook assembly, but the other requires an exact match! Unfortunately, only one of the bobbin cases is currently being reproduced.
Alternatively, an entire new hook assembly is now available (within the last couple of months), but it retails for $252!
I hate to be a skeptic, but I wasn't so sure about this information. Never before had I heard of two different hook assemblies and bobbin cases. Plus, all of the schematics I have showing the original part numbers for the Singer Featherweight consistently have the bobbin case with the number that matches the reproduction bobbin case currently available. After spending the better part of a day testing bobbin cases and machines, I acquiesced – the parts house was right!
This is all interesting trivia and probably is of no interest to you – UNTIL you break, lose, or have your bobbin case stolen. Then, it will make a LOT of difference! Prudence says prevention is the better road to travel. Protect your machine. I always recommend that you remove your bobbin case and put it in your pocket or purse if you are participating in a large retreat, class, etc. This is true for

any

machine make or model. I know of one incident where a class at a large show went to lunch, only to come back and discover that all their bobbin cases had been stolen!
And, make sure you are working with a dealer that will help you get the right bobbin case for your machine, should you ever need one. Bottom line price with no service is not a 'good deal'.
Be watching in the near future. I have a new product coming out that will appeal to quilters. I am very excited about it.

Happy Stitching!

NOTE: Nova does NOT sell reproduction bobbin cases any longer. They simply do NOT work. Only an original SIMANCO bobbin case is appropriate for a Singer Featherweight 221. That is ALL Nova sells now due to the issues with the reproduction bobbin cases.

May 2012
Floppy Bobbin Winder Arm
I often have students bring machines to class or have Featherweights brought to me for repair that have 'floppy' bobbin winder arms. Meaning that they will not stay in a set position nor will they engage consistently with the belt to successfully wind a bobbin. Most of the owners have learned to live with this problem by pushing the bobbin winder arm all the way up (no! no! – please see the Tip of the Month from back in April 2011) and then holding the bobbin winder arm down with their finger when trying to wind a bobbin.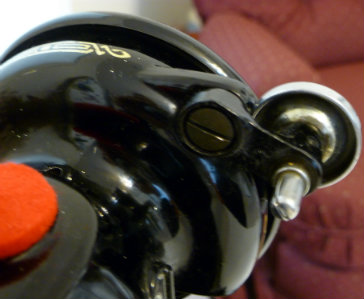 The issue is caused by the flattening of the tension washers in the assembly of the bobbin winder arm. See that large screw? It is really a temptation to give that thing a good tightening down. However, this flattens the washers and actually causes the problem to worsen with time.
The tension washers are replaceable, but as always – prevention is best. You need to move that bobbin winder arm as little as possible – just so it isn't touching the belt.
By the way, the replacement bobbin winder arms that are now available (2012) do not fit on the machine just right and require some extensive effort to attach and get to function. Prevention is best.
Happy Stitching!
April 2012
Spool Spindle Plate and Pin
The spool spindle pin is not able to be tightened. It is riveted to the spool spindle plate. Once the spindle pin is damaged and becomes wobbly – it cannot be retightened. Luckily, the plates are replaceable (for now). www.novamontgomery.com/shop/Singer-Featherweight-Parts/p/Spool-Spindle-Plate.htmClick here to order a new spool spindle plate.
By now you know that I prefer to prevent damage whenever possible instead of trying to fix problems. So, how does the spool spindle pin become damaged? Any hard blow can cause this, but it most often happens when the machine is being transported in the case. If the case is turned upside down, the machine falls down to the lid and the spool spindle pin is what takes the blow. You can look in the case lid and see where the pin has hit. It will leave dents in the case lid. I have even seen them go through case lids they have hit so hard!
If you are shipping your machine, you should always remove the spool spindle plate (replace the screw, so you don't lose it!). Wrap the plate in bubble wrap and fill the top of the case (above the machine) with bubble wrap, lots of crushed paper, or old towels. Do NOT use packing peanuts. They shift during shipment and are useless.
Please check out my new Facebook Page: Nova's Featherweights and Quilting. I am posting 'mini-tips' there on a regular basis.
March 2012
Quilting with your Featherweight
The March Tip of the Month focuses on quilting (not piecing) with your Singer Featherweight 221. Quilting with my Featherweight, I have obtained great results – it does a beautiful job!
The feed dogs on a Singer Featherweight do not lower. I do not find this to be a hindrance to free motion quilting. If they are in your way, it is a very simple thing to cover them with a narrow piece of template plastic taped to the needle plate. The template plastic is thin, so it does not take up valuable space between your presser foot and the needle plate.
Remember to run the pressure foot pressure knob down to put more pressure on your presser foot for increased traction to pull the layers of your quilt through the machine.
There is a walking foot available that is specifically designed to be used with your Featherweight. The presser foot on this walking foot is designed so that it aligns with the feed dogs on the sewing machine. (Click here to order)
There is also a free motion foot available for your Singer Featherweight. I have had lovely results quilting with this. I seem to have a lot more speed control with my Featherweight than with other machines. (Click here to order.)
The small throat on a Featherweight is a hindrance to quilting a large project. I have used the Divide and Conquer method featured in the
Possibilities book with great success. It allows you to divide your quilt into sections and then assemble those sections. This is a much more manageable option for a Featherweight.
One crucial thing to remember about quilting with your Featherweight is that while it achieves great results, the little machine was really not designed for such demanding work. It has a single phase motor that will get very hot (and be damaged) if you just 'go to town' with it. Perhaps that is why I have good success with quilting on my Featherweight. I am slow! I need lots of breaks. This works well for me and my machine! YOU MUST LET THE MOTOR COOL OFF!
Someone recently contacted me about using a Featherweight in one of the quilting frames that allows a machine to be placed on a shelf and guided with handlebars. My opinion is that this would be a

disaster

for your Featherweight. It would be easy to forget to let the motor cool down, and you would run it to death!
Please remember to check out my Facebook page (Nova's Featherweights and Quilting). I am posting 'mini tips' there a couple of times a week. And, of course, I would appreciate it if you would 'like' it and tell all your friends about it and my web site!!
February 2012
Skipping Stitches
There have been several inquiries lately about Singer Featherweights skipping stitches.
"My machine skips stitches only when I paper piece…"
"I was trying to sew on Minky® and my machine was skipping stitches…"
"My machine skips stitches only when I cross an intersection…"
As a general rule (there are always exceptions) skipping stitches is a problem with the sewing machine needle.
To correct try the following:
Select a new needle. Needles are mass manufactured and occasionally there can even be a problem with a new needle that is straight from the package. I prefer Schmetz needles. They are a high quality, German made needle that are readily available. Needles should be replaced after eight hours of sewing time or if there is an accident (you hit a pin, presser foot, etc.).
Make certain that you have inserted the needle correctly in the machine. Remember the flat side of the needle must match the flat side of the needle plate (a built in visual for you). The needle needs to be inserted all the way up in the shaft before you tighten the needle clamp screw.
For the three problems noted above or whenever you are sewing through thick material, try a larger needle than you have been using. A needle that is too small will not have the strength to penetrate through the thickness quickly enough for the loop of the thread that the needle is carrying to be caught below in the hook – thus there are skipped stitches. Use the smallest needle that will perform well in your specific application, but do not be afraid to use a larger needle if that is what is needed to get the job done.
Make certain that the positioning finger on the hook is caught properly in the groove of the needle plate.
Occasionally there could be a problem with a bur on the machine's hook or other obscure difficulties. But, again, almost always the difficulty is a needle problem.
January 2012
Top Tension
Happy New Year!
This month's Tip deals with the top tension on your Singer Featherweight 221. Several of my repair customers and different 'posters' on the 'groups' have had questions and issues with top tension.

The tension assembly on a Featherweight is quite dependable and generally trouble free on a well maintained machine. The most common issue I am seeing and reading about is the tension is fouled because the numbered dial is being pushed in and turned to adjust the tension. This is incorrect.

To adjust the tension on your Featherweight all you need to turn is the small silver knob in front of the numbered dial. Avoid pushing in on the numbered dial when you adjust the tension.

The number one rule if you sit down to sew and suddenly your tension is off – rethread the entire machine. Most often you can have missed a thread guide, or have the thread wrapped around something that should not be. Don't be afraid to adjust the top tension knob, but don't start there. Start by rethreading the machine.
If the top tension is fouled on your machine, you will need to push in on the numbered dial and adjust until you obtain a correct tension. Good tension is indicated by no knots on the top or bottom, but the stitch being 'locked' in the center (hence the terminology – 'lock stitch' machine). I generally like to test tension with a different color thread on the top and bottom (remember that Featherweights like to have their threads matched on the top and bottom – same weight, fiber, etc.). Or, you can run your fingernail down the stitch line to see if you feel knots. Knots on the top can indicate top tension too tight or bobbin tension too loose. Knots on the bottom, bobbin tension too tight or top tension too loose. To tighten top tension go to a higher number (or on the older model machines that did not have a numbered dial – turn right [lefty loosey, righty tighty]). If you need to reset your top tension, work in small increments pushing in on the numbered dial and adjusting. Make sure the pin on the back of the silver knob seats in one of the little holes before you check the stitch.
When I service a machine I like to set the tension at about 4 for medium weight cotton quilting fabric.
My Featherweight Maintenance Class does not remove the top tension assembly (this is generally considered a repair – not maintenance).
However, if you believe your tension assembly to be dirty, you can clean it (preferably with it on the machine) with kerosene. Also, lift your presser foot to release the tension on the discs, take a piece of cotton fabric and 'shoe shine' between the discs to remove lint, etc.
If you are placing the machine in storage for a period of time remove the thread from the machine. Lots of folks leave it threaded to remind them how to thread it again. When you leave the machine threaded, the thread can absorb moisture from the air and cause rust to form on the tension discs where it is touching them. This will create problems when the machine is placed back in service (generally requires service to disassemble, clean and polish the discs).
Be sure to check out my new Featherweight Cosmetics Card and Sew Straight Guide.
Happy Stitching!
Clarification - Posted January 5, 2012
Sometimes when writing technical information what appears very clear to me does not communicate as intended to others.
I will try to clarify the January Tip of the Month.
When adjusting the top tension on your Singer Featherweight for general sewing purposes (differences in fabric weight or thread weight, etc. is why you would need to adjust at all), you should NOT be pushing in on the numbered dial. You can adjust the top tension by simply turning the small silver knob in front of the numbered dial.
IF YOU HAVE BEEN PUSHING IN ON THE NUMBERED DIAL your tension will be fouled. Correct tension will not be set for normal fabrics and you will have a hard time adjusting it to sew correctly on any fabric. Additionally, you will not have the entire range of tension adjustments available to you.

THEREFORE, IF YOU HAVE BEEN PUSHING IN ON THE NUMBERED DIAL you will need to push it in to reset the top tension on the machine. I like to set the tension for normal quilting weight cottons to 4 or 4 ½ when I am servicing a machine.
Please follow the instructions in the January Tip to reset in small increments until you have achieved a correct setting.
Remember that your Singer Featherweight prefers to have the threads on the top and in the bobbin matched (matching weights and types).